Cari amici di Around the World, questa settimana abbiamo avuto il piacere di conoscere Elisabetta, una ragazza con una forte passione per i viaggi e con un blog davvero interessante: Free Soul On The Road.


Da una semplice chiacchierata siamo arrivati ad una vera e propria testimonianza da cui qualsiasi aspirante viaggiatore potrebbe trarre beneficio. Se volete saperne di più non vi rimane che leggere questa intervista alla travel blogger Elisabetta di Free Soul On The Road. Buona lettura !
Ciao raccontaci di te e presentati ai nostri lettori..
Mi chiamo Elisabetta, sono ligure, ho una laurea in lingue ed oltre all'italiano parlo altre 4 lingue. Ho una sorella, vivo con il mio ragazzo e ho un cane e un gatto.
Ho studiato all'estero per un periodo, nello specifico in Siria ed ho avuto l'occasione di visitare posti meravigliosi durante le mie pause studio. Da qui è nato il mio amore per il medio oriente e questa straordinaria cultura.
Una volta tornata in Italia ho iniziato a lavorare presso una compagnia di crociere che mi ha poi proposto di fare un periodo di lavoro a bordo delle navi, così non mi sono fatta scappare l'occasione! Lavorare e viaggiare, un sogno!
La mia passione (o forse ossessione :-)) per i viaggi nasce da quando ero bambina.
Ricordo il cugino di mio papà, un vero viaggiatore di quelli che ormai oggi è raro incontrare, che con il suo zainetto partiva per viaggi lunghissimi, alla scoperta dei luoghi più strani. E quando ritornava restavo affascinata dai suoi racconti e guardavo incantata le immagini sulle schede telefoniche che mi portava, provando a immaginare come potessero essere davvero i luoghi fantastici di cui mi parlava.
La mia inguaribile voglia di avventura invece credo proprio che provenga dai film di Indiana Jones che guardavo sempre con mio papà, e dai videogiochi di Tomb Raider…quanto sognavo di essere come Lara Croft e avventurarmi nelle giungle della Cambogia!
Viaggiare per me oltre una passione è stata una vera e propria necessità. Ad un certo punto della mia vita ho sentito quel bisogno di partire, di mettere il mondo in pausa e pensare a me stessa. Avevo bisogno di dimenticare tutto il male che mi era stato fatto.
Da piccola sono stata vittima di bullismo e questi sono eventi traumatici che prima o ritornano. Possono riaffiorare anche dopo tanto tempo e fanno si che scatti un senso di inadeguatezza dentro di te. Ti senti sbagliata. Ti senti impotente e inconsapevolmente ti ritrovi a fare scelte sbagliate, a frequentare persone sbagliate che non fanno altro che provocarti altro dolore.
Poi però mi sono detta "basta" . Avevo voglia di essere felice anch'io. Ed è stato proprio il viaggio ad aiutarmi a guarire tutte queste ferite che avevo dentro. Mi ha aiutata a riscoprirmi e ad apprezzare la mia persona.
In fondo, quando riesci a vedere il bello che ti circonda incominci a capire che qualcosa di bello deve esserci anche dentro di te.
Di cosa tratta il tuo sito o pagina Instagram? Da quanto tempo è nato?
Il mio sito Free Soul On The Road e la mia pagina Instagram freesoulontheroad, parlano di viaggi ovviamente.
E' nato prima il mio sito, è un progetto che portavo avanti da tempo ma che ha raggiunto il suo modello attuale l'anno scorso, nel novembre del 2017. E' stata mia mamma a darmi l'idea, pur non essendo un'esperta di internet mi ha sempre detto che avrei dovuto trovare un modo per raccontare le mie esperienze e mi ha spinta ad ideare questo blog. Dietro a questo progetto c'è anche l'aiuto di mio papà, che mi ha insegnato a costruire un sito web da zero cosa di cui non ne sapevo nulla.
Mi piace immaginarlo come un progetto in continua evoluzione, un po' come me, che migliora e si arricchisce con il passare del tempo.
Qui racconto di me, delle mie primissime esperienze di viaggio, di quelle piccole grandi avventure nate un po' dall'ingenuità e dall'incoscienza.
Parlo dei miei viaggi in giro per il mondo e tutto è organizzato in sezioni che corrispondo ai vari paesi che ho visitato. C'è questa mappa interattiva che ti permette di scegliere un Paese (quelli che ho visitato sono in azzurro) e puoi leggere i vari articoli che ho pubblicato sulla meta scelta.
Qui si trovano le mie esperienze e quello che provo a fare, è dare dei consigli a tutti coloro che vogliono provare a viaggiare da soli, perché credo non ci sia cosa più bella al mondo. Il mio sito infatti parla principalmente di viaggi in solitaria con lo zaino in spalla, e credo che tutti nella vita almeno una volta debbano provare questa esperienza.
Ovviamente ci sono anche tantissime foto che ho scattato durante i miei viaggi e quella per la fotografia è una passione che mi ha trasmesso mio papà, infatti lui è un fotografo.
Parlaci di viaggi: il viaggio più bello che hai mai fatto? Quello che ti ha deluso di più?
Partiamo da quello che mi ha delusa di più, che è più facile trovare una risposta.
Non me ne vogliano gli amici filippini, ma quello nelle Filippine è stato il peggiore.
Le Filippine sono un paese meraviglioso, Palawan con El Nido poi è un vero paradiso. Quella doveva essere la mia destinazione: Puerto Princesa, El Nido e Coron. Ma a causa di 3 grossi tifoni sono stata costretta a tornare a Manila e trascorrere 15 giorni in quella che reputo una delle città più brutte che abbia mai visto.
Di viaggi belli ne ho fatti tanti e sono molti i posti che porto nel cuore.
Marocco, Bali, India, Thailandia per citarne alcuni…sono tutti luoghi straordinari, ma quello più bello in assoluto per me resta il viaggio in Cambogia.
La Cambogia è un sogno, un paese meraviglioso fatto di persone gentili e cordiali dove il cibo è davvero buono ed insolito. Qui ho avuto la possibilità di provare per la prima volta gli insetti fritti (e le tarantole sono buonissime), ma la Cambogia è soprattutto Angkor.
L'antica capitale del regno delle meraviglie. Un sito archeologico immerso nella natura, dove le rovine dei templi sono divorate da gigantesche radici, un susseguirsi di guglie che si riflettono sugli specchi d'acqua. Vedere l'alba ad Angkor è stato qualcosa di così emozionante che sono certa che non lo dimenticherò mai. E poi girare tra le rovine mi ha fatta sentire proprio come Lara Croft 😀
Quale viaggio ti piacerebbe fare nel prossimo futuro
Bella domanda! Va bene "andrei ovunque" come risposta?
Nel prossimo futuro andrò in Laos un paese che non vedo l'ora di scoprire. Mi piacerebbe un sacco andare in Buthan, in Nepal, in Argentina, in Islanda…ma il mio sogno nel cassetto è l'Isola di Pasqua.
Sono fissata con questo posto da quando sono bambina, e magari un giorno realizzerò anche questo sogno 🙂
3 qualità che un travel blogger deve possedere nello svolgimento del suo lavoro?
Ci tengo a precisare che attualmente fare la travel blogger per me è principalmente un hobby, non mi ritengo una travel blogger professionista (ma magari un giorno potrei diventarlo… chi lo sa :D).
Sono semplicemente una persona che ama scoprire luoghi nuovi, ama meravigliarsi davanti alle cose insolite e allo stesso modo ama raccontarle alle persone. Quindi provo a trasmettere la mia stessa passione.
In ogni caso ci sono alcune qualità che credo siano necessarie per svolgere qualsiasi tipo di lavoro:
determinazione
passione
curiosità
La determinazione è quella forza che ti spinge da dentro, quella voglia di riuscire a tutti i costi a raggiungere un obiettivo ed è la determinazione che ti permette di andare avanti contro tutte le avversità. La definirei quasi un dono.
Passione perché ogni cosa, che sia piccola o grande se fatta con passione ha un sapore diverso. Se ci metti l'anima e il cuore in qualsiasi cosa tu faccia i risultati saranno sempre migliori.
La curiosità è una qualità meravigliosa. E' la curiosità che ti spinge a voler scoprire cose nuove, ti stimola quella voglia di conoscenza che allo stesso tempo porta inevitabilmente ad una crescita personale.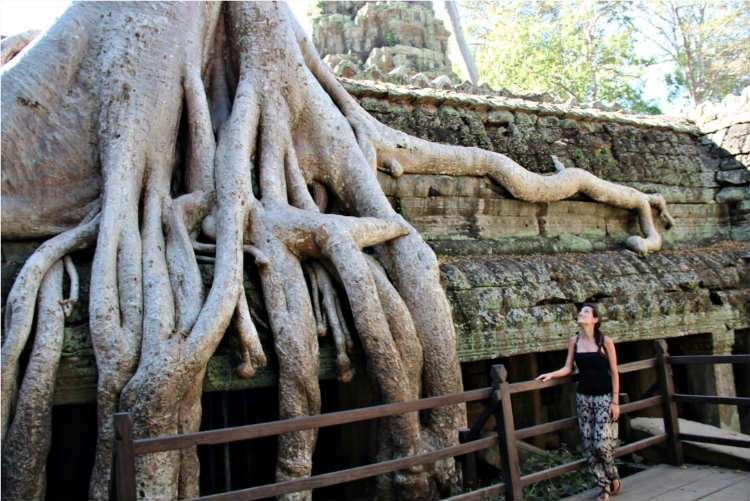 Adoro i social!
Oltre al mio blog uso Facebook e ovviamente Instagram che amo particolarmente.
Ci tengo moltissimo a curare il mio blog, voglio che sia bello, accattivante e ricco di contenuti interessanti.
Allo stesso modo presto molta attenzione anche al mio profilo Instagram, dove cerco di pubblicare fotografie che possano in qualche modo ispirare le persone ad intraprendere il mio stesso viaggio o a visitare una determinata destinazione.
Conclusioni
Siamo giunti al termine di questa bellissima intervista alla travel blogger Elisabetta di Free Soul on the Road. La ringraziamo davvero per le belle parole spese all'interno del post e per la sua grande onestà.
Non possiamo far altro che augurarle altri 1000 viaggi ed un grande in bocca al lupo per i progetti futuri!