Amici del travel blog Around the World, siamo pronti a parlarvi delle esperienze di vita all'estero da parte di amici italiani sparsi per il mondo. Oggi abbiamo avuto il piacere di contattare un amico di vecchia data conosciuto 8-9 anni fa in quel di Barcellona, che ha deciso di fare della Spagna la sua seconda casa. Se un'esperienza all'estero è da sempre il vostro sogno nel cassetto o qualora foste amanti della penisola iberica e voleste saperne un pò di più, vi consigliamo di proseguire la lettura e scoprire il punto di vista di uno "specialista della vita spagnola". Ecco a voi la testimonianza di Alessio da Madrid.
Ciao Alessio parlaci un pò di te. (Lavoro e Passioni)
La parte del lavoro mi piace poterla finalmente metterla per iscritto, sono anni che provo a spiegare alla mia famiglia cosa faccio. Sono Head of international business per un'azienda che si occupa di digital marketing, in particolar modo della parte di pubblicità native. Per farla breve e senza termini troppo tecnici, ci occupiamo di gestire le pubblicità online di aziende grandi.
Le mie passioni? La prima ha un nome proprio, si chiama Roma. Ovunque sono andato ho aiutato a fondare un Roma Club ed ora ne abbiamo uno anche qui da circa 2 anni, fondato insieme ad altre 2 persone.
A parte questo, sono schiavo del mio cagnolone e mi piace molto praticare sport in generale. Ogni mattina, anche se sembra una pazzia, mi sveglio alle 6 per andare a correre.
Dove ti trovi al momento? Come è iniziata l'avventura spagnola?
Ora mi trovo a Madrid da 3 anni, anche se la mia avventura iniziò esattamente 12 anni fa a Barcellona. Me ne innamorai subito dopo una vacanza. I colori, la gente, dai diciamola tutta che all'epoca ero 23enne e anche la movida mi conquistò. Era tutto così differente dalle altre città che avevo visitato.
Ovviamente il fattore sentimentale giocò la sua parte, dato che la mia ormai ex ragazza è proprio di Barcellona. Fu un mix di cose che mi spinsero dopo soli 2 mesi a comprare un biglietto di sola andata ed un attimo dopo ero lì. E se per caso mi chiedessero "Cosa faresti se potessi tornare indietro?" La mia risposta sarebbe "Lo comprerei anche prima dei 2 mesi".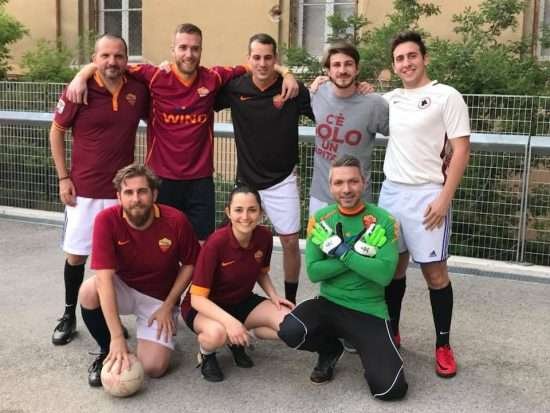 Se dovessi trovare 3 pregi e 3 difetti della vita spagnola cosa sceglieresti?
Iniziamo con i difetti:
Fanno la carbonara con la panna, una cosa che non potrò mai perdonargli.
Noi ci lamentiamo tanto dell'attenzione al cliente nei posti pubblici in Italia, ma qui ho visto cose a volte abbastanza ridicole.
Il terzo purtroppo non lo trovo.
Ne devo dire uno? Manca lo Stadio Olimpico 🙂 Di pregi ne potrei tirar fuori milioni, ma 3 in particolare:
il vivere perennemente in uno status "no stress",
il poterti muovere a piedi o con trasporti con facilità (vengo da Roma, dove la gente va a comprare il giornale a 400 mt in macchina)
il fatto che la vita, con gli stipendi medi che ci sono, sia molto meno cara che in Italia.
Da Barcellona a Madrid: 2 città con una forte rivalità. Raccontaci la tua esperienza
Sono due città completamente differenti. Tante volte ho sentito la domanda "Quale ti piace di più?". Ma la risposta non esiste.
Quello che posso dire è che dispiace sentire con le proprie orecchie come gli uni parlino gli altri.
Anche in Italia abbiamo le nostre "rivalità", ma alla fin fine ci sentiamo tutti italiani. Ora la cosa sembra si sia un pò calmata, ma ricordo un fatto successo circa 10 anni fa durante la mia prima vacanza a Madrid.
Accidentalmente chiesi al cameriere di un ristorante pane con pomodoro (pan con tomate); allorché il cameriere stizzito mi rispose "Quello te lo fanno i catalani, qui sei a Madrid". Da lì iniziai a capire la rivalità.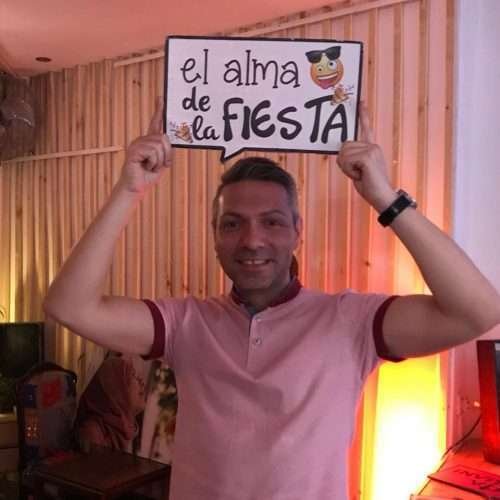 Ti manca l'Italia ?
Diciamo che mi mancano la famiglia e gli amici di tutta una vita, per il resto, stando a 2 ore e mezza di volo, ogni volta che ne sento la mancanza e posso, torno.
Progetti futuri
L'unica cosa sicura al 100% per ora è che resterò qui a Madrid, il resto è da vedere. Ho molte cose che mi girano per la testa, devo solo capire quali di quelle è quella che voglio veramente.
Conclusioni
Ringraziamo Alessio per questa bella testimonianza e gli auguriamo di continuare alla grande, come sempre! L'unico suggerimento è quello di "cambiare squadra" e poter finalmente soffrire un pò di meno 🙂
Sappiamo già che non potrà mai succedere, ma in amicizia ci è concesso far un tentativo!
Per qualsiasi informazione o per saperne di più sulla vita spagnola, vi invitiamo a scriverci nei commenti o tramite la pagina contatti. Faremo il possibile per offrirvi i suggerimenti più semplici ed utili.
Alla prossima!